written by Bonnie Fletcher
The Danbury Historical Society has restored and preserved a very special red one-room schoolhouse called the North Road School also know as School No. 4, located on 440 North Road, in Danbury, N.H. This school was built in 1853 and closed its doors in 1943. I have been the project manager on this preservation initiative since its beginning and also have been the President of the Danbury Historical Society for the past 18 years. I am very proud of my volunteer work on this project and all that I have done for my community along with our many dedicated volunteers that helped to restore and preserve this building to turn it into a museum.
Here are some photographs of some of our displays and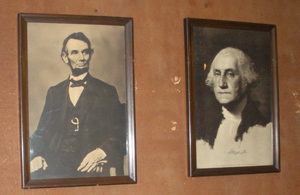 historical collections in the Museum that I gathered for my organization and I will be sharing some of the history of our town with you. The schoolhouse contains a cloakroom, a main schoolroom, an attached woodshed and an outhouse. Back in the 1850's it's students ranged from first grade to eighth and the students all sat in the same room, with the younger students sitting in desks in the front section and the older students in the back.  I will be sharing some history on school days and how life was back in the 1800's on this site (on other pages), so please check back to read more about this topic in the future.
More about the preservation project… at the start of this initiative the schoolhouse was in desperate need of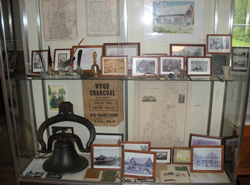 rehabilitation and it has been totally restored to preserve its architectural and historic integrity. This classic red-one room school contains its original structure, houses historic artifacts such as historic maps, old books, historic photographs, postcards and school furniture and is located on a beautiful country road.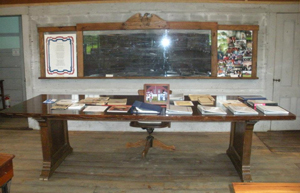 A section of the wall shows the original blackboard which still has a 4-line patriotic poem inscribed in chalk:
Three proud floating emblems of glory, Our guide for the coming time, The red, white and blue and their beauty, Love gives them a means of sublime.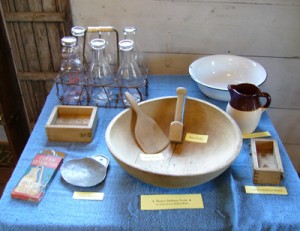 We restored the original cast iron woodstove in the school and we have collected all types of farming tools and real unique items. It has been a wonderful part of my life heading up this effort and very rewarding to be involved in this community project.
Volunteering… If you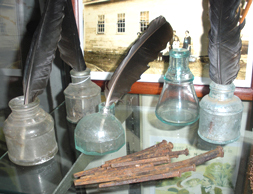 ever think you might want to volunteer for something, I would definitely recommend putting some time aside to volunteer your time on a preservation effort or a worthy community project. We all can make a difference in our community and our life. You will meet new people and it is a great feeling setting a goal and reaching it. You never know what you can accomplish until you try.
If you have ever volunteered for an organization I would love to hear what you have volunteered for and any stories you may want to share. Or if you have any questions or comments on this site, please feel free to post them. I will be adding more content in the weeks to come. Check out my other pages – the page links are located on the right side column. Thank you for visiting my blog!
Kindest regards,
Bonnie Fletcher